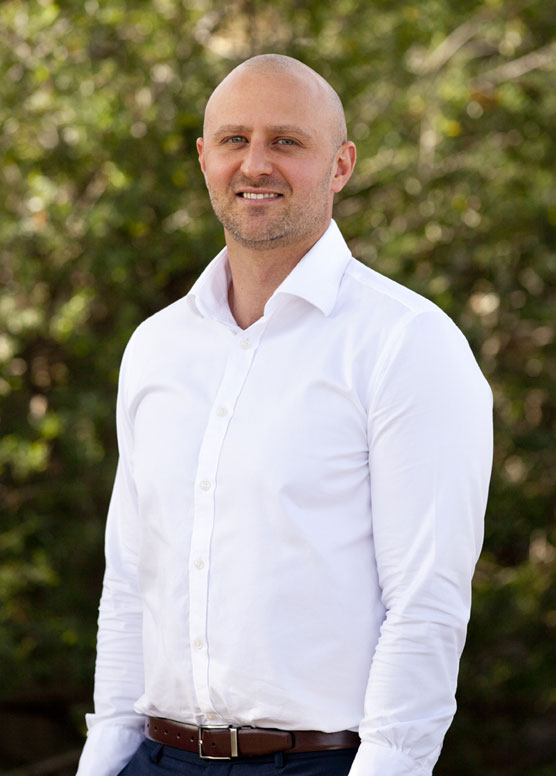 DR PAUL SIMMONS
BChiroSc, MChiro
CLINIC SCHEDULE
| | | |
| --- | --- | --- |
| Monday |  9AM – 1PM |  3PM – 6PM |
| Tuesday | | 3PM – 7PM |
| Wednesday | 9AM – 1PM | 3PM – 6PM |
| Friday | 9AM – 1PM | 3PM – 6PM |
| Saturday | 8AM – 12PM | |
Dr Paul Simmons
My Chiropractic Story
I believe in being a role model for my family, my patients and my profession by keeping healthy through chiropractic care, regular exercise and high-quality nutrition.
I am passionate in pursuing the highest standard of chiropractic technique and knowledge of the human body so I can give the best possible care and results to my patients.
My chiropractic story starts when I was a fit 21-year-old playing in my first A grade cricket semi-final when I simply bent forward to pick up a ball that was rolling towards me.
Suddenly I felt a "pop" and immediately after felt excruciating pain in my lower back and down my left leg, all the way to my big toe. The pain was excruciating and unbearable and I was carried off the field by my team mates.
A friend of mine suggested I see a Gonstead chiropractor, so I made an emergency appointment and thankfully was seen the next day.
The examination was very thorough and my injury was explained to me which gave me confidence I had made the right decision to see a chiropractor.
After a few treatments, my low back and leg pain improved and, almost after a week after my initial injury, I was given the green light to play in my victorious cricket grand final.
At the time, I was studying a Bachelor of Science and this experience was so profound that it inspired me to switch my degree to a Bachelor of Chiropractic. The rest is history!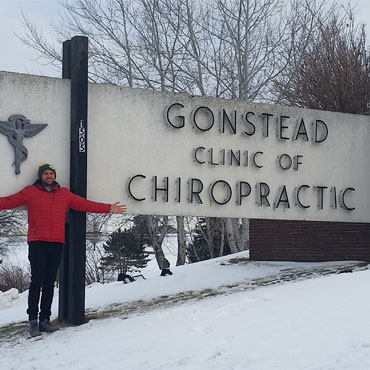 Why Gonstead
Gonstead Story
The moment I sat through my first Gonstead lecture at Macquarie University, I knew straight away that I wanted to be a Gonstead chiropractor. As a student, I always pushed myself by taking extra classes.
I regularly practised my technique on family members and friends. On study breaks in the library, I would often watch Dr Ian Rossborough's YouTube channel, Chiroexcellence, for daily inspiration.
From the start, I wanted to be the best that I could be. I never wanted to give up or quit.
After I completed my studies in 2012, I moved from Sydney to Adelaide. I was fortunate to have earnt an associate position at Trowse Chiropractic with DrJohn Trowse.
As a young chiropractor, I always wanted to visit the home of Gonstead Chiropractic. In January 2016, I travelled to the USA to spend time in the original Gonstead clinic in Mt Horeb, Wisconsin. It was an inspiring experience to be able to retrace the steps of Dr Gonstead himself.
I have attended over 15 Gonstead chiropractic seminars and workshops. For the past year, I have undertaken postgraduate Gonstead study. In 2021 I hope to have completed my Gonstead Ambassador certification.
In 2019, I became the vice president of the Gonstead Chiropractic Society Australia. I hope to contribute by helping organise seminars and workshops for students and chiropractors from Australia and around the world.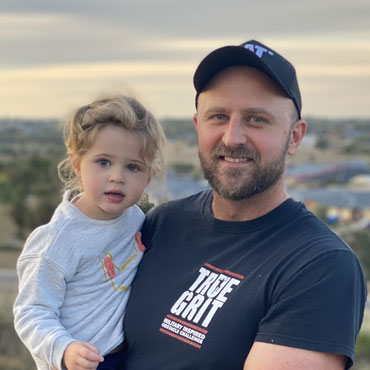 Family Time
About me
When I am not practising, I love spending my spare time with my family. Whether it's cooking dinner in the kitchen, eating fresh fruits and veggies from our garden or walking along the beach, I am most happy when we are all together. I have to two beautiful daughters, Amber and Leah, that mean the world to me.
I have a strong passion for baking, particularly making different types of sourdough breads and Neapolitan style pizza.
Exercise is important to me too. In summer, I play cricket for Unley Cricket Club in the limited overs competition. In the winter months, I like to keep fit by running medium-long distances. But since having children, finding time for exercise can be challenging!
Since my wife and I are not originally from Adelaide, we want to explore more of South Australia. Over the next few years, as our daughters grow up, we hope to take a few road trips and weekend camping adventures.
I am a West Coast Eagles supporter and Green Bay Packers fan.
We strive to improve the function of your spine and body
Move Better, Feel Better, Naturally